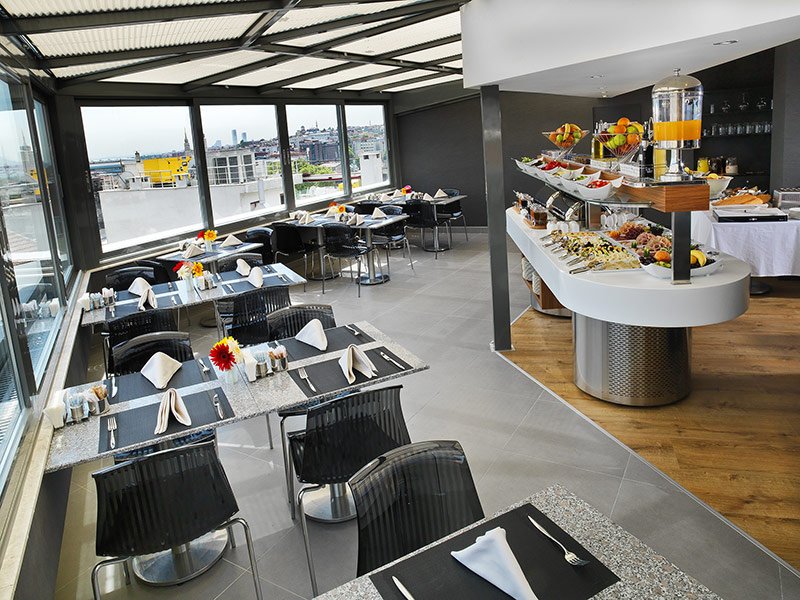 Start your day in the best way with a Misa Hotel breakfast including freshly squeezed fruit juices accompanied by specialties of Turkish cuisine as well as many different food options. The rich menu offered in the cozy atmosphere featuring the best examples of the Turkish and International cuisine for breakfast, lunch and dinner can make your decision difficult.

You can find tastes of Turkish and Mediterranean cuisine in the A la Carte menu of Misa Restaurant. You willhave a pleasant time enjoying our grill specialties onour terrace overlooking to the panoramic Bosporus view.

Delicious cake varieties, pastries, deserts, and small snacks are available at the patisserie waiting to accompany your tea or coffee. The bar section makes your evenings more pleasant with its rich wine cellar. This pleasant restaurant where you can simultaneously enjoy the breathtaking Bosporus view and the unique texture of the historical peninsula will add excitement to your Misa Hotel experience.

Misa Hotel invites you, esteemed guests, to its very special restaurant to relax by watching the history as far as the eye can see in the most beautiful view of Istanbul, the "Historical Peninsula".